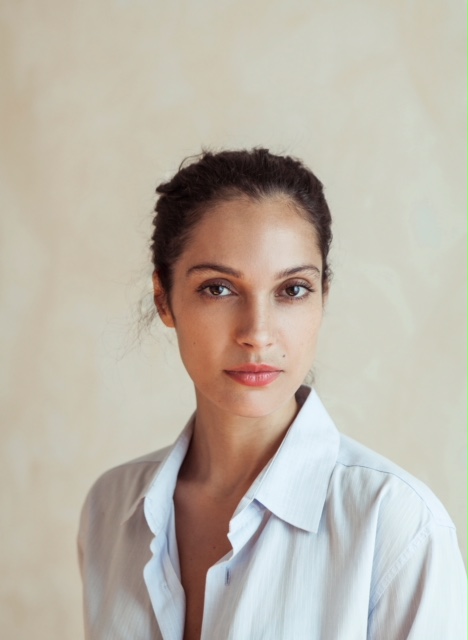 Interview with Hania Amar
How did you come to be cast for this short?
My agent told me Naqqash Khalid wanted to work with me and sent me a script and examples of his work. I loved his vision and found the script really original in the way he wanted to depict a personal experience. I was really grateful that Naqqash was eager to work with me and even more so as I got to know him better.
How did you find working with Naqqash Khalid?
I was surprised to discover how young he was. We spoke a lot on the phone before my arrival in the UK and I was struck by his mature vision of the world which comes across in his work. I loved the distance that he creates as a Director and the magistral silence that follows when he says: "Action!" On one hand, he manages to convey precise boundaries yet on the other, he allows you total freedom as an actor to define your character within those limits.
Was this the first time you worked with Idir Chender?
Yes, and it was a lot of fun, we literally laughed from the very first second we talked to each other. I think I spoke to him in a weird way or with a weird accent and he started laughing then his laugh made me laugh and from then on, it didn't stop. He's a great actor. In work, he's generous, engaged and helpful. He creates joy wherever he goes and is genuinely interested in you as a person which in turn, as an actor, helps you stay creative.
Describe the character you play?
I play an interpreter who is supposed to translate the "suspect's" testimony. She switches from one mindset
to another as she takes stock of the power she holds over both the officer and the suspect. At the same time, we don't really know if she's real, if she is actually present in the interrogation room. Is she a machine, does she represent the suspect's inner thoughts, his imagination, his conscience...? She is both the mirror of what the officer understands and a reflection of what the suspect is trying to say.
How was this film different to others you've worked on?
It was my first time working with Naqqash and in the UK, so from that perspective, it was very different to any work I have done so far!
What is the significance of the title Stock?
For me, the title always sounded like "Stuck," the pronunciation is slightly different but I kept on reading "Stuck" all the way through, so I guess subconsciously, it was linked to a feeling of being stuck in an unsolvable situation. Given that stock relates to products or items that are meant to be sold or used later, I naturally extended it to include people or even pent-up energy to be "used" later but that waiting period creates frustration until it's released.
What did you learn about the British way of working?
From an acting perspective, I love the discipline, the sheer humility of British crews and their cool blood compared to my Latin contemporaries! The British have a reputation for being very respectful and focused when working and it really isn't a cliché, it's a fact. Compared to Britain, when working with Mediterranean crews, there are no clear guidelines; professional and personal time seems to amalgamate and when on set, absolutely everyone offers their opinion on how you should play a scene! Despite my Mediterranean roots, the Anglo-Saxon way of working definitely suits my personality. I love it!

'Stock' will premiere on Sky Arts in Spring 2019. For updates, follow @StocktheFilm on twitter.